Our games
We have an ever growing library of arcade game hardware dating from the early eighties to the late 1990's and can fit any of our games into our mini-cabinets based on your preferences or party theme!
So whether you're into Neo Geo, Capcom, Sega, or Williams, Taito, Konami or Tekhan we'll have a game for you!
We have many hundreds of game titles to chose from, including multi-boards that feature a number of games in one unit: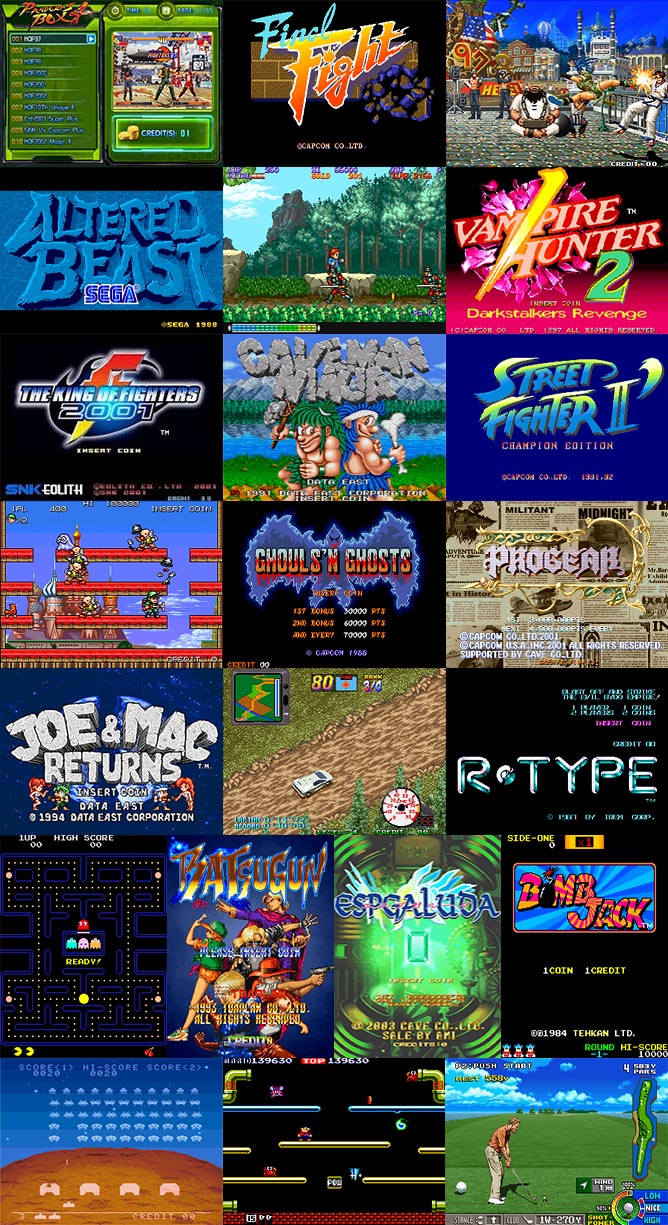 Here's a rundown on some of our favourites:
Tetris (kids / teen / adult)
The original and all time classic puzzle game from Atari. Spin and drop random block shapes to make horizontal lines, which will then crumble and disappear. The Atari version is considered the best version in the arcade as it introduced various different levels and bonus targets, together with interesting challenges such as blocks that appear in your way, or a play-field that slowly rises as the game progresses!

Wonder Boy (kids / teen / adult)
One of the classic SEGA games from the 1980's, Wonder Boy is simple platforming fun at its best. Controlling the caveman-like Wonder boy and armed with just a stone-age axe you need to fight off insects, snakes and more to rescue your equally cute girlfriend. Before too long you're riding a skateboard, jumping above cloud topped
oceans and dodging rolling boulders in ice caves!

Wonderboy III: Monster Lair (kids / teen / adult)
One of the sequels to the original Wonderboy game, Sega blended platforming action and scrolling shoot em up elements in this colourful yet frantic adventure. Two players can play co-operatively this time round!

Pang (kids / teen / adult)
A fantastically simple puzzle game, easy to pick up but hard to master! Mitchell's Pang has you popping bubbles with harpoon guns! When you hit one it splits, and again and again until the screen is filled with tons of tiny bubbles - too many to handle! Numerous power-ups and weapons keep the bubble-bursting fun!

Spin Master - Miracle Adventure (kids / teen / adult)
Running on the SNK Neo Geo system, Spin Master is a cute and colourful cartoon side-scroller. This platform game has you swinging a yoyo to despatch an endless stream of oncoming enemies. Huge bosses and lots of variety mean this game is humorous and fun!

Top Hunter - Roddy & Cathy (kids / teen / adult)
Running on the SNK Neo Geo system, Top Hunter is a scrolling platform shooter where you must battle 'Space Pirates' with masses of cartoon charm, power-ups and comedy moments. Large character graphics and the ability to jump 'in and out' of the action makes this game a hidden gem in the Neo Geo collection.

Rod-Land (kids / teen / adult)
Another fantastic two player puzzle platformer for the kids! Cute colorful fun collecting fruit and flowers, while bopping enemies over the head with magic wands!

Metal Slug: Super Vehicle-001 (teen / adult)
Running on the SNK Neo Geo system, Metal Slug is a military themed horizontally scrolling platform shooter. Packed full of humorous animation and crazy weapon and machine designs, it is widely regarded as having some of the most detailed pixel game artwork ever made!

Metal Slug 2: Super Vehicle-001/II (teen / adult)
Running on the SNK Neo Geo system, Metal Slug 2 is a military themed horizontally scrolling platform shooter, and the sequel to the massively popular first game. Extended with a choice of players, more varied missions to battle through and even more crazy military hardware, this one is always a blast!

Demon Front (teen / adult)
Running on the IGS PGM system, Demon Front is stunningly beautiful horizontally scrolling platform shooter. Like the Metal Slug games, it packs masses of detail into a game that at first seems like an average military themed shooter, before too long becoming a fight to the teeth with demons, monsters, and all things crazy and mystical!

Robocop (teen / adult)
Based on the late 80's film, Robocop was a huge hit in the arcades. Play as Officer Murphy and fight your way through the Detroit Badlands, fighting the robotic ED-209 and more! This one is a very tough cookie to master - for advanced players only!
Pandora's Box (kids / teen / adult)
Can't decide on a game? Then Pandora's Box is the answer.
Containing 645 games selectable from a menu system, this has masses of games for any retro arcade party, from Pac Man and Donkey Kong, Ghosts & Goblins and Bubble Bobble, right up to Street Fighter, King Of Fighters, and recent bulletstorm vertical shoot-em-ups like Espgaluda.
The trade-off for the masses of games is that not all of the titles replicate the arcade experience perfectly -
vertical screen games are played in small shrunken centre section of the full 4:3 CRT screen for instance.
You can view the full games list here.